Reviews by Some of Our Guests
Here are a few comments by some of our guests.
If you have stayed at Back o' the Moon, please tell us about your experience.
Congratulations! Your guests have spoken – you're their hospitality hero. Your boundless passion, commitment and hard work have earned you a Booking.com 2017 Guest Review Award.
Back o' The Moon in Hogsback has been awarded a Travellers' Choice Award for their superb guest reviews.
Back o The Moon won a 2018 Certificate of Excellence Award for Hogsback Self-Catering on Afristay.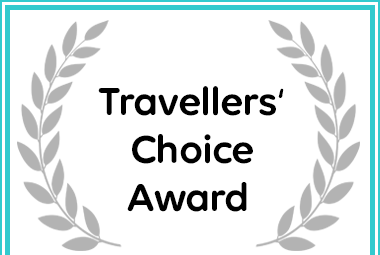 Back o' The Moon received a Travellers' Choice Award due to exceptional customer reviews for Accommodation in Hogsback
6 January 2020; Comment via Booking.com
Atmosphere and hospitality were great! This is a place where harmony and magic come together.
28 April 2019; Shantall Martin
Our stay at back of the moon was wonderful the place is fully equipped and very comfortable the fire place made the cold evenings so beautiful. Norma and Derek are wonderful hosts and made sure we were short of nothing thank you for making our visit to hogsback so lovely.
Shantall, Ashley, Nicolah and Luke.
17 April 2019; Richard (USA)
My second visit here. Norma and Derek are fantastic hosts and make you feel welcome in their unique and quaint setting. It's top notch and the place to be while in Hogsback.
Thanks again to Norma and Derek. The fire was great!
15 April 2019; Katja Olsen
Dear Norma and Derek,
Your wonderful cosy cottage provided us yet again with everything one needs in the Hogsback. Snuggled up on a rainy day in front of the fire place with our daughter enjoying the Wi-Fi and DsTV. Or coming back from a hike to a nice cup of tea and homemade rusk on the stoop. We're looking forward to our next visit already!
Love Katja, Dave and Charlie
7 April 2019; A picture is worth a thousand words ...
Some appreciative guests sent this to express their appreciation for two days of relaxation and rest at Back o' the Moon Cottage.
13 November 2018; Nomsa Mbabama
My 3 friends and I spent a very restful 2 nights at the cottage from the 9th to the 11th of November 2018. Norma and Derek are very warm hosts and we thoroughly enjoyed the complementary home baked rusks and the fire every night. will definitely come again to enjoy the tons of books that are also available.
18 September 2017; Tim Berndt
This quaint and romantic Elizabethan cottage was built in 1931, so if you love antique and authentic, this is just wonderful! Set in a magnificent garden, one senses that this homely cottage is a labour of love.
It's so quiet here, that when sitting in the garden, the loudest thing I could hear was a bee flying from flower to flower. Waking up to the fragrance of jasmine flowers wafting into the room, seems to set one's mind in such a peaceful mode for the day. This place is the doctor's prescription for stress - days on end reading and walking through the forests to nearby waterfalls.
Our hosts, Derek and Norma, do hospitality from the heart, in a way that is so natural, one could never have learned it as a skill!
I've stayed in at least twenty establishments over my many years of frequenting Hogsback; the modern, the stylish - and the expensive; but this to me captures the essence of the Hogsback I so loved as a child. Of all the places I've stayed in Hogsback, this is my favourite...we'll be back soon!
January 2017; Marius van Vuuren (5-Star Review on AirBnB)
The charm of this cottage absolutely blew us over. The cottage is perfectly situated and close to all major attractions. It's set in a beautiful garden, and has its own private garden.
13 Desember 2016; Paul Brits, Somerset-Wes
Net 'n kort GROOT DANKIE vir die absoluut wonderlike verblyf wat ons kon geniet. Dit is so jammer dat jul nie op Tripadvisor is nie, want wou jul 'n 100% gegee het. Ons het al taamlik wyd oor die wêreld heen gereis, en nog nooit het ons in 'n selfsorg 'cottage' gebly met soveel karakter nie – en met soveel sorg so goed toegerus nie. Nog lank sal ons nie uitgepraat raak oor Back o' the Moon nie! (En jy was reg, ons tyd hier was te kort.) Baie groete, en 'n Geseënde Kersfees en 2017.
27 November, 2016; Robin Colyn, South Africa
Was a wonderful stay at a magic little spot! The cottage is awesome, spacious and perfect for couples or family. The immediate garden is magical and serene. Great for birding as well!!!
20 June 2016; Viv M East London, South Africa
The best-kept secret holiday accommodation in Hogsback.
Left on June 19, 2016 after a stay in June 2016. Having visited Hogsback many times of the past 20 odd years, we gathered our family of 4 "children" (in their 30's!) to celebrate the matriarch's 70th birthday at Back o' the Moon. An unforgettable weekend in the cosiest of cottages - with a wood fire for the cold evenings. The attention to detail with personal service was reflective of caring hosts.
14 April 2016; Mariaan and Arlene
Dear Norma, We really enjoyed our stay in this tranquil lovely cottage. You are wonderful hosts who saw to all our needs. We felt so privileged, with a beautifull garden and the "Golden Pond". Thank you for the lovely bouquet of flowers, even in the bathrooms. The beds and pillows were so very comfortable; one wished to stay in bed with all the books you provided. The peaceful environment made our few days in Hogsback worthwhile and I would love to visit again.
12-13 Jan 2015 The Mc Carthy's from PE:
"Oooooooh Boy! What a wonderful place!......."
5-7 Dec 2014 Inga, Tholoz, Noli and Jack wrote:
"Your home looks lovely and we were happy with everything. I love your vintage style and decor....."
22 Nov 2014 Reg, Eirene and Tom from Cape Town:
"A truly wonderful story. With many thanks to our great hosts-----and their dog and parrot!"
16 Nov 2014 Uitenhage friends wrote:
"Tranquil, stunning, awesome! Thank you for everything. Will be back"
12-26 Oct 2014 "Such a privilege to be here - enjoying the cottage, garden & friendship....." Johanna and Steve Pillinger. UK
6-11 Oct 2104 "What an awesome time we spent here....." Martin & Delene Rushton, Grahamstown
13-16 June 2014 "Thank you! Will return soon" Venetia
2-4 June 2014 "Thank you for a lovely, comfortable stay & all your kindness" John, Pat, Ken & Vern from George
17-20 May 2014 "Delightful!" Chris & Sheelagh Henley Port Elizabeth
2 May 2014 "Wonderful place! Definitely would be able to live here. This is, so far, the best little cottage I have stayed at. Thank you so much" .......Hayli Wasserman
22 July 2013 :"The cottage is warm and cosy like a real farm house style cottage. The cottage had everything we needed to enjoy our stay. Had a wonderful time. Over-all rating 80%." - Xmas in July Guests..
13 April 2013. "We thoroughly enjoyed our stay in the historic cottage and appreciated the warm hospitality shown by our hosts." Dr Anthony Travers, Bloemfontein.
31 October 2011: "Norma was very welcoming. The cottage is comfortable, cosy and well equipped. The garden is secluded and peaceful." Lesley Henderson, South Africa.
27 Oktober 2011: "Altyd 'n belewenis om hier te wees." (Always an experience to be here.) Rienie & Hannes Horn, Steytlerville.
24 September 2011. "Hoogs aanbeveel. Selfsorg op sy beste - niks kort nie." (Highly recommended. Self-catering at its best. Wanting for nothing.) Suzetta Nel, Namibia.
26 August 2011: "Cosy, comfortable cottage. Will come again. Thank you!" Christine & Craig, East London.
13 August 2011; Omer & Tess, Boston, USA.:
"No one could hope to have nicer hosts, a better view or a cosier place to stay!"